Listen to the Podcast Here:
Watch on YouTube Here:
Below is an EARLY draft outline of the book's title, subtitles, target audience, and table of contents. It may look a lot different before it's done!
But feel free to read it over, and I would LOVE your comments about:
what you like
what you don't like
what else you'd like to see in the book
If you or someone you know would make a good featured profile in the book, please let me know more in the comments below.
Thanks for being a supporter and part of the book writing process with me!
Chad / Coach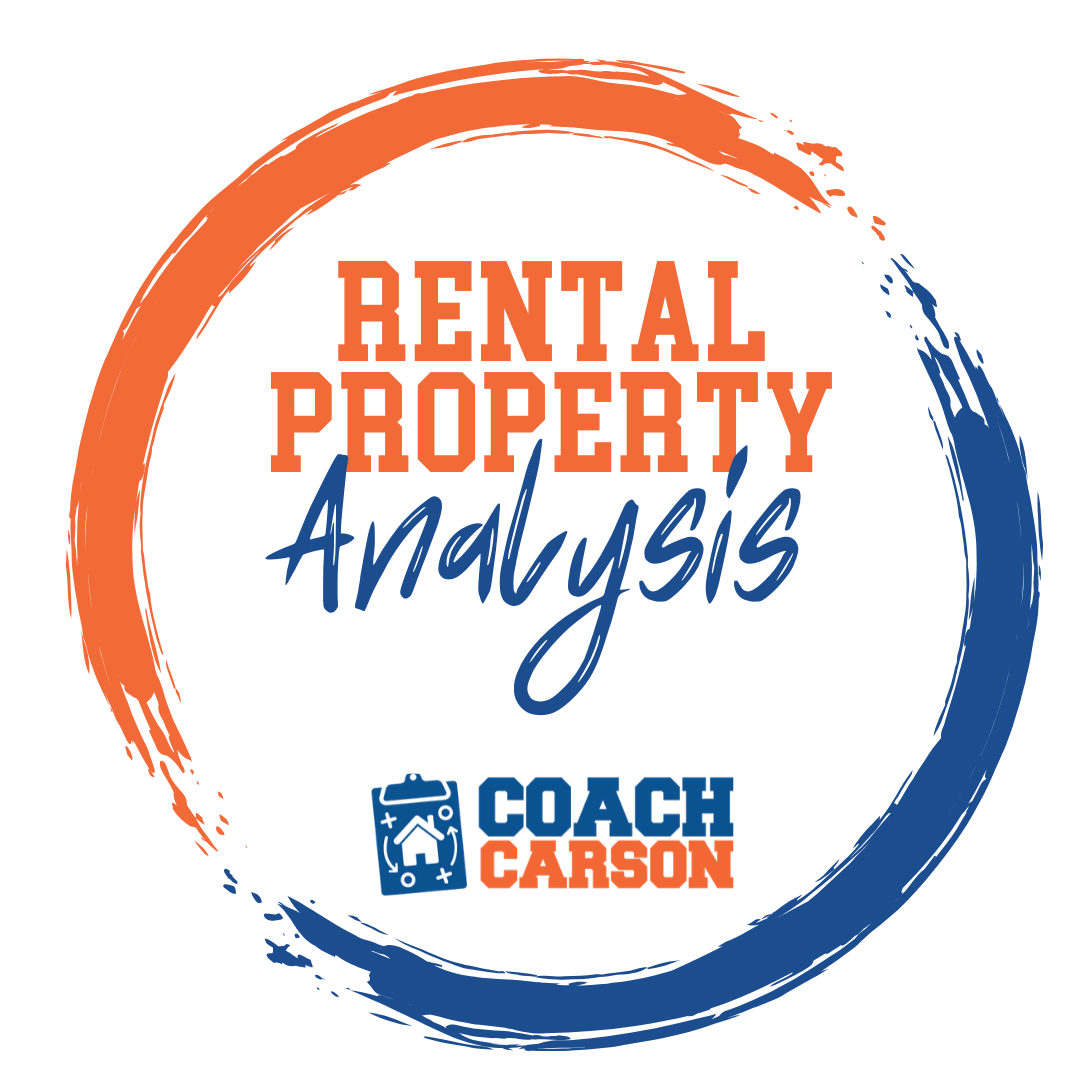 A course by Coach Carson that teaches you how to run the numbers so that you can confidently analyze and buy profitable rental properties. It also includes Coach's rental analysis spreadsheet.
Get the Course
---
Title and Subtitle
Title: The Small & Mighty Investor
Subtitle: A Guide to More Freedom With Fewer Properties
Alternative Subtitles:
The Guide to More Freedom With Less Hassle in Real Estate Investing
A Guide to More Freedom With Fewer Properties
A Guide to More Freedom & Free Time With Fewer Properties
More Freedom, More Time, Fewer Hassles
Small Real Estate, Big Freedom
Target Market: 
In mid to late 30s. Married.
New or newish (1-3 properties) investor
Loves the idea of real estate investing but is overwhelmed and/or intimidated by the "bigness" of typical real estate investing advice.
Doesn't relate to the examples they often see online and they're seeking a role model and a system more in alignment with their goals and life priorities.
Pain/Desire of Target Market: 
Frustrated by lack of time and control over personal life
Scared of economic changes, of being left behind, of missing out on opportunities and unfulfilled potential in their life.
Also scared of making a big mistake. Scared it's too late. Risk averse.
Feels stuck. Trapped. In worst times, a little hopeless.
Really want more time, more freedom, more flexibility, more options
Not opposed to work, per se, just doesn't like the status quo trading hours for dollars
Looking for a clear, trusted real estate/financial guide and process. Not over-the-top. Grounded, real, workable, understandable, doable.
BOOK OUTLINE: 
Part 1: The Small & Mighty Manifesto
The Myth of More

3 investor trip

The business beast (may eat you alive)

My sprint up the mountain

Growth puppets (Investors, lenders = puppeteers, entrepreneur = puppet)

Enough

Simplicity and less mental clutter

Space to do what matters

John Schaub: Minimum properties needed to satisfy $-goals

7 Small & Mighty Rules 

Life goals 1st, business goals 2nd

Happiness: Intrinsic vs extrinsic goals

More Freedom > More Gold

Relative wealth – Time, money, mobility (4HWW)

Don't Defer Living Life

Plateaus & Mini retirements

Rekindle hobbies and passions

Cash flow biz vs big paydays

"someday"

Question growth, scale, & speed (Outgrow the Growth Mantra)

Relationships tough to scale

Use creative solutions (vs growing your way out)

Organic, patient growth vs forced timelines & leveraged growth

Biz sweet spots

Debt = a Tool (not a religion)

Be anti-fragile (manage risk, not just growth)

Season for every tool

Be Better, not bigger (Be a Craftsman or Craftswoman)

Mission/purpose/craft-driven → profit is just fuel

Excellence = true north

Bigness dilutes your craft, role changes, less time on passion

Career capital

Don't Take Yourself So Seriously

Identity = biz??

Growth FOMO ("Envy is ignorance" – Emerson)

A Picture of an Ideal Small & Mighty Investor 

My story & others (traveling with family)

Other stories (examples of what's possible as a Small & Mighty Investor)

3 examples/portfolios of Small & Mighty (2 properties, 10 properties, 50 properties, — short-term rentals, apartments, …)

ACTION EXERCISE: What's your FI number? How many properties do you need? (hang up visible)
Part 2: How to Start
One Property at a Time

Hack Your Housing

Low Cash Strategies

Passive Investing Strategies

Just Buy 4
ACTION EXERCISE: Write down your short-term property goal
Part 3: How to Buy Right
The Right Location

Local or long-distance (Growth vs Cash Flow Markets)

Big picture & local criteria to look for

Short-Cut to pick the right market for you 

ACTION EXERCISE: Market study worksheet 

The Right Property

My Ideal Rental Property

Remember Land Goes Up in Value (Not the Sticks & Bricks)

Property Types for S&M Investors (with pluses/minuses)

Single Family Houses

2,3,4-unit Apartment Buildings

Small Apartment Buildings (5-100 units)

Condos & Townhomes

Mobile Home on Land

Small Mobile Home Parks

Land

Red flags checklist

Insist on value, be flexible on property type

How to Run the Numbers

Two core return drivers

Key Formulas

1% rule

NOI

Unleveraged yield (~cap rate)

Simple spreadsheet

Internal Rate of Return

ACTION EXERCISE: Run the numbers on 3 properties

How to Find & Negotiate Good Deals

Low-cost lead sources that work:

MLS

Driving for dollars

Networking

Other options to grow into

Negotiating tips

Due Diligence & Closing
Part 4: How to Get the Money
Down Payment Strategies

House Hacking Mortgages

Investor Mortgages

Creative/Alternative Financing
Part 5: How to Manage Rentals
Self or 3rd Party Management – How to Decide

Best Properties Attract the Best Tenants

Tenant Screening 101

Must-Have Landlord Technology 

Maintenance & Upkeep

Bookkeeping & Administration
Part 6: How to Win the Financial Game
Freedom in Phases (Starter, Builder, Ender)

When (& How) to Pay Off Debt

[Optimizing / next moves with portfolio / exit strategy] 

What to do When You Grow Up (aka Filling the Void)
Appendix:
Case Studies (15-20 — some in book, some in bonuses on BP)

Common objections/FAQ
Get My Free Real Estate Investing Toolkit!
Enter your email address and click "Get Toolkit"