Listen to the Podcast Here:
Watch on YouTube Here:
About This Episode
Episode #265 – Where can you put your cash savings for a down payment so that it's safe but still grows? Coach Carson has twenty years of experience saving for and buying hundreds of properties, and in this episode he shares his favorite places to put cash for down payments.
Episode Transcript
[00:00]
If you're buying a piece of real estate, whether it's your home to live in or an investment property, you're probably gonna have to save up a lot of cash for the down payment for repairs and other costs. And the question is, what do you do with all that cash during those months or those years that you're saving the money before you buy the property? As someone who's been buying hundreds of properties over the last 20 years, I've got a lot of experience going through this process. So in this edition of Ask Coach, I'm going to share with you some of my ideas of the best places to put your money to save for your next property. And we're getting started right now.
[00:37]
If we haven't met yet, my name is Chad Carson. You can also call me Coach. And this channel is all about helping you get out of the financial grind so you can do more of what matters in the Ask Coach series. So I do my best to answer your burning questions about personal finance and real estate. The first advice I have about saving up for a down payment is where not to put the money.
[00:54]
And that includes the stock market, that includes mutual funds and index funds, that includes cryptocurrencies or any other investment that has the potential to go down very quickly. As tempting as it might be to try to turn a small amount of money into a large amount of money by timing the market and investing in riskier assets, that's really not the game you want to play here. If you think about it, the main engine for helping you save money for a down payment is your job or maybe a side hustle, some way to generate some income, and then you spending maybe a little bit less. You can build up that cash and whatever vehicle you decide to put it in. And the number one criteria that you're looking for is safety.
[01:30]
You don't want that money to go away so that you can sleep tonight knowing that tomorrow when you wake up, that money is still going to be there. That's the number one criteria. The number two criteria is just having it be convenient and accessible so when you need the money, being able to get it pretty quickly and be able to use it to buy a property when the opportunity comes along, those are the first two criteria. And once you've satisfied those safety and convenience, then number three, it would be nice if it could also give you a little bit of boost of interest or earnings as well. So I'm going to give you an idea of a few different places that I put my money when I'm saving for a down payment that match all of those criteria.
[02:05]
So the first place I like to put my cash when I'm saving for a down payment is actually the simplest option and it's just to open up a separate account at the bank where I already have checking or savings accounts. So this is the most convenient option. And this is especially if I'm only saving money for a few months. So let's say I need $60,000 and I already have $50,000, and I think it'll take a two or three month period to save up and get up to that 60,000. I'm not as worried about maximizing the interest.
[02:30]
I'm more worried about just having it convenient. And I'm also worried, of course, about it being safe. So being in a bank account is FDIC insured in the United States. So that's part of the Federal Deposit Insurance Corporation, which basically guarantees the amount of money you have up to a certain amount. I believe it's about $200,000 if it's an FDIC insured account.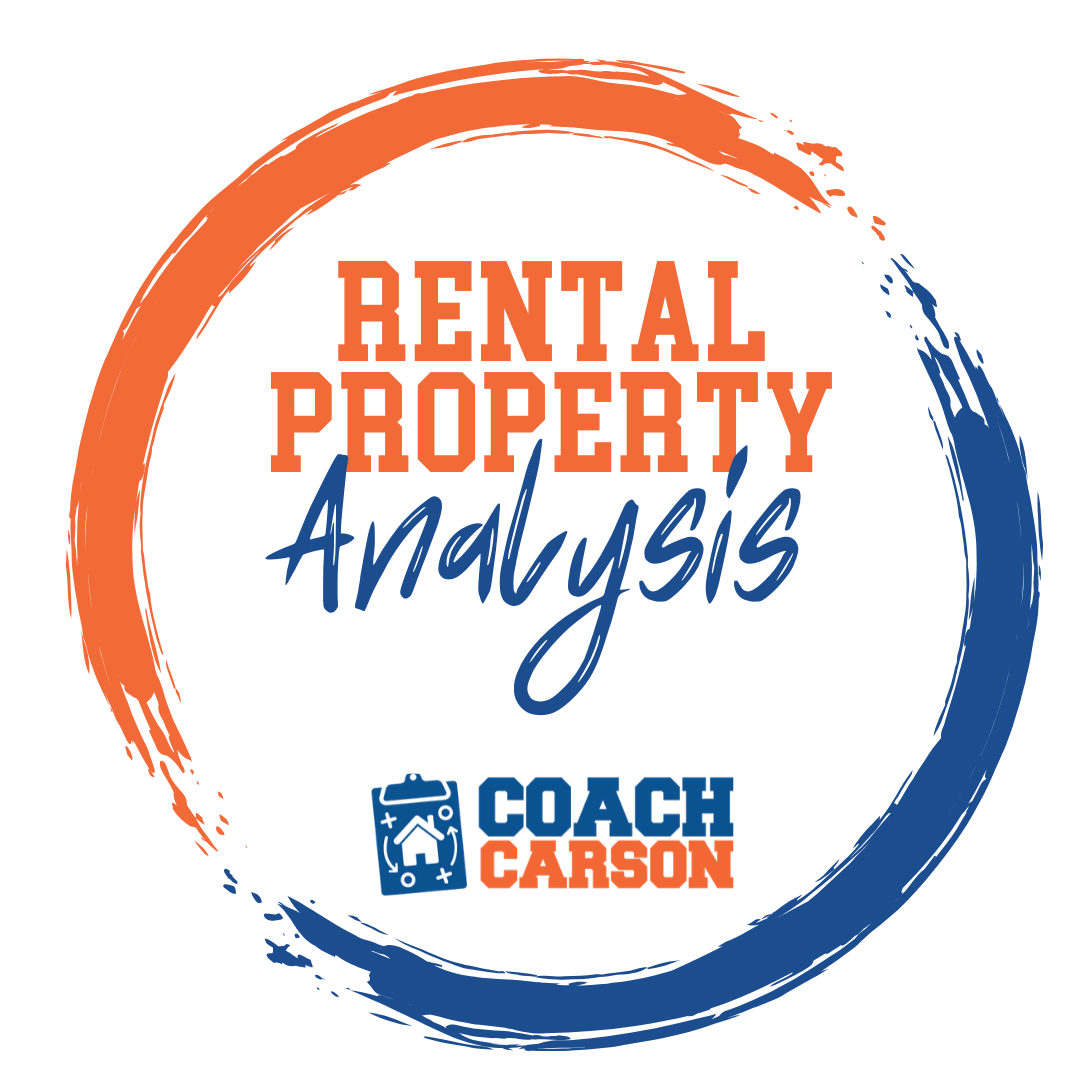 A course by Coach Carson that teaches you how to run the numbers so that you can confidently analyze and buy profitable rental properties. It also includes Coach's rental analysis spreadsheet.
Get the Course
[02:47]
So that's your main concern, convenience and also safety. And so just opening up an account and just keeping it separate so it doesn't get mixed in with all your other accounts, with your other paying your bills. You just want that money so it's set aside, can't be spent, and there it is in a separate account. So that's the first option I typically do. The second place I would put my money is something called a high yield savings account.
[03:09]
And really over the long run, if you're going to be continually saving up down payments, this is the best place to have your money over the long run. And just to give you an example, and I don't have any affiliation with this bank, this is just where I have my savings accounts, but I use capital 1360 and they have a high yield savings account. Right now, in November 2022, that's about a 3% interest rate. So think about it. If you're saving money for a year or longer, and let's use that same $60,000 number, if you're trying to save 60,000 and you're starting at zero, then let's say you average $30,000 over a one year period, building up to that $60,000, at 3% interest, you're going to make an extra $900 at the end of the year.
[03:47]
So that's helpful. That's worth you taking the trouble to set up that account to get the money moved over and have it a little bit less convenient. It doesn't take too long to move your money back to a checking account, or you can write a check, but it's worthwhile getting those interest rates, especially now. A few years ago when interest rates were a half percent or 1%, for me, it really didn't make sense, even over a year long period, to try to move the money over. If you're going to make $100 or $150, that's nice, but it's really not worth the trouble.
[04:14]
At least it wasn't for me as much as it is right now. Now the interest rates have gone up and you'll have to pay attention in the future to see they're going to go up, they're going to go down, but if they maintain this level of higher interest rates, a high yield savings account is my favorite place to put the money to save for a down payment. A third place that I would consider putting my money is closely related to number two, but is putting in a CD. So a CD is a certificate of deposit. It's also insured by the Federal Deposit Insurance Corporation.
[04:40]
So it meets our criteria. Number one being very safe. The downside of a CD is that usually you have to put the money aside for a year or maybe two years depending on what kind of CD you want to buy. And so you're basically locking it in and there's a penalty if you try to take that money out before. So this could be a really good option, especially if you know you're going to be saving money for a longer period of time.
[04:58]
Let's say you're saving that $60,000 and you already have $30,000 upfront and you just want to put that money in somewhere and get a good return on it. When I looked at the CD rates today, again at Capital One where I have my money, you could have a 4% interest rate for a one year CD. Getting a two year CD wasn't that much better. I think it's like 4.1%. But the point is you can lock up your money if you know it's going to take you a couple of years to save your money.
[05:21]
Put it in a CD, it's a little bit higher interest rate maybe than you would in a high yield savings account. And if you're going to take a longer period of time, that might be worth it because you're not going to have to pay that penalty to take the money out. So certificates of a deposit could be another good option to mix in with your high yield savings account. So the fourth and final option where I would consider putting my cash when I'm saving for a down payment is something called US Treasury bills. So essentially you're buying part of the US federal debt, which we know there's a lot of.
[05:49]
But it can be a very good source because in the investment world the lowest risk, zero risk investment is buying U. S. Government bonds. And so there's very low risk or virtually no risk of default. So it meets that criteria.
[06:01]
Number one for safety was really interesting, especially with a particular product called an Bonds, which you can Google and you can look at YouTube videos. I also have a link below to some good articles and some good videos on what I bonds are and how to buy them. But it's a special type of bond you can buy with the US government that pays you a higher interest rate. So as we're speaking right now, in November 2022, it's over 6%. I bought some bonds last year and it was over 9%.
[06:27]
So as inflation goes up, the interest rate goes up on these I bonds and there is a limited amount of money you can invest in these. So I think each individual gets about $10,000 and you can also do this for entities. So if you have an LLC that you're buying your property in, you can buy it for each of your LLC's or your business. So this is a fantastic place to get above average interest rates where you have very low risk of it defaulting. So the other option is the cousin of the Bonds, which is just short term US treasury bills, which if you have a larger amount of money you're trying to invest 2030, $40,000 or more then you might want to go directly to treasury bills.
[07:01]
And you can either do that by going directly to the US government and I'll put a link to the treasury direct website where you would buy both the bonds and these US treasury bills. In some cases it's easier and more user friendly to go through brokerages like Schwab or any Fidelity or any of the big brokerage firms to buy treasury bills as well. But a very similar benefit, a little bit higher interest rates today because inflation is higher and the low risk of default. So if you're going for bigger amounts of money and you want to try to boost your return a little bit, I was looking at the returns for bonds as I said, were over 6% and short term treasury bills were over 4%. So kind of Cd like rates maybe a little bit higher for these treasury bills and they also have a shorter time period.
[07:41]
So six months, three months, sometimes a year when you can get your money back and use it for your down payment. So you now have a plan on how you're going to save your down payment money and you know some places where you can safely put that money. If you want some help on how to actually buy your next investment property, I have a video I think you'll like. It's called how to Confidently Buy Your Next Rental Property in Ten Steps. You can check that out.
[08:02]
I have a link above me here somewhere and also in the video description below. If you found this video helpful, the only thing I ask is you hit that like button. It's a big help to me to spread the word to others on YouTube. I appreciate it. You've been listening to the Coach Carson podcast, which is all about helping you get out of the financial grind so you can do more of what matters.
[08:19]
I'll see you next time. If you like the show, I'd like to invite you to subscribe to my free email newsletter at coachcarson.com/REIToolKit. In addition to weekly updates, articles and behind the scenes tips from me, my email newsletter subscribers get my real estate investing toolkit, which includes a property closing checklist that I actually use when I buy properties. A real estate deal worksheet, a tenant screening criteria checklist and other spreadsheets and goodies that will help you on your journey to financial independence. Using real estate.
[08:48]
You can get it all for free at coachcarson.com/REIToolKit. I also want to take this time to thank some people behind the scenes who make this podcast possible each and every week. This includes my podcast editor extraordinaire, Michael Nguyen, my amazing virtual assistant, Megan Thompson, my wife Kari, who helps me behind the scenes and is my partner here at Coach Carson. And of course, thank you to all of you, the listeners of this show who make everything possible.
[09:10]
This show exists for you. It exists because of you. And I really appreciate you being here for another episode. Everything I've shared with you in this episode has been for general education purposes. I've not considered your specific situation or risk.
[09:22]
Before buying your own investments, be sure to consult a financial, real estate and or a legal professional. Until next time, I'm Chad Carson. You could also call me Coach. And this is a show all about helping you get out of the financial grind so you can do more of what matters. See you next time you.
Links
► How to Confidently Buy Your First Rental Property (10-Steps)
IBONDS:
►(where to buy) https://www.treasurydirect.gov/savings-bonds/i-bonds/
►(tutorial) Buying Ibonds Step by Step on Treasury Direct: https://youtu.be/j6mKVVtdCCQ
Help me reach new listeners on Apple Podcasts by leaving us a rating and review! It takes just 30 seconds. Thanks! I really appreciate it!
Get My Free Real Estate Investing Toolkit!
Enter your email address and click "Get Toolkit"