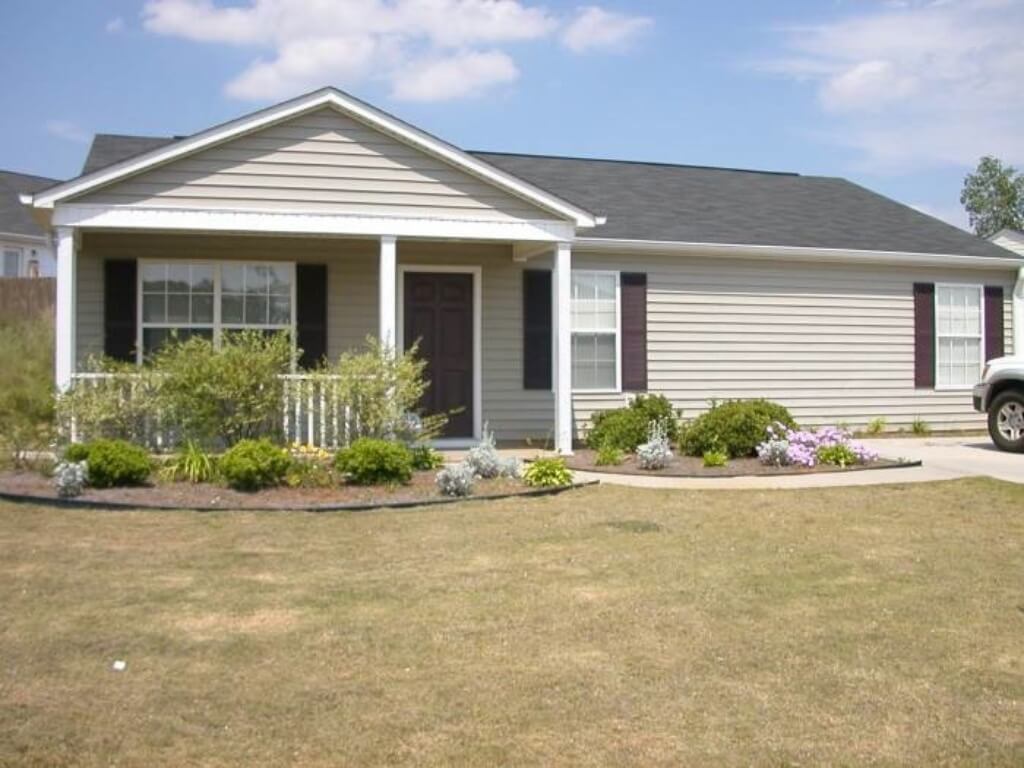 Jack Miller was one of my favorite real estate teachers early in my career. He passed away in 2009, but I still reread a lot of his old books and newsletters, like the short books Success Secrets and Wealth Without Risk. They are classics.
Jack always taught to buy good investments, not trophy houses. This is a tough task for many of us because real estate ownership can bring immense pride.  Part of the allure of real estate is that it's real, it's tangible, and you (and your friends) can drive by the investment to ooohh and ahhhh at its beauty.
But in reality the best long-term income properties are rarely the ones with the beautiful trim, complicated roof lines, and stunning architectural design.  Investing is an objective, financially driven sport.  In my experience, the most profitable real estate will not be the building that wins someone the architect of the year award.
The profitable rental work horses are often boring, normal, and rectangle shaped houses.  They are working class. They are nice but not exceptional. Ironically, these average houses bring above average safety and profit.
Why Boring Properties Make Good Investments
Why do the boring properties out-perform the fancy house as good investments in real estate?
First, because houses with complicated roof lines, interesting layouts, and beautiful finishes are desirable but often less than functional. There are too many things to break and to replace. The extra benefits cost money over the long run, and in many cases they don't bring in enough extra rent to compensate for that added cost.
Second, rental investments don't usually make financial sense as the neighborhood and the house get fancier. The rent usually does not continue to increase at the same rate as the price. And this means you make less investment income for every additional dollar you spend.
For example, let's say you find a beautiful, larger home (house #1) worth $600,000 that you can buy cheap for $450,000.  The monthly rent is $2,500, which leads to a yearly rent of $30,000 before expenses.
Your price-to-rent ratio for house #1 is $450,000 / $30,000 = 15.  So the price is 15 times larger than the yearly rent.
But another home (house #2) worth $200,000 can be bought for $160,000.  This home rents for $1,600/month, which leads to a yearly rent of $19,200 before expenses.
Your price-to-rent ratio for house #2 is $160,000 / $19,200 = 8.33.  So the price is only 8.33 times larger than the yearly rent.
House #1 may make a great flip, but it's income ratio is much worse than House #2.  House #2 may not be as desirable or as fancy, but it will put more rental income in the bank over the long-run per dollar invested.
Find Your Sweet Spot For Good Investments
In the end the goal for buy and hold rental properties is to maximize long-term profitability and minimize hassle.  You're looking for the sweet spot where the maximum rent intersects with the lowest purchase and maintenance costs and also the lowest hassle.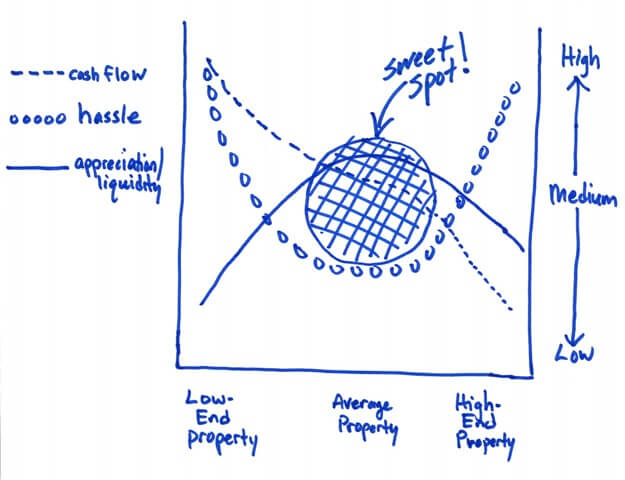 As you can see, low-end properties produce a lot of cash flow but also produce a lot of hassle and little appreciation. High-end properties have high hassle, low cash flow, and sub-par appreciation.
Somewhere in the middle is the sweet spot. But unfortunately there's no magic formula to find it for your market. You'll have to test and observe the actual numbers in your target rental market. Every location is a little bit different. As a bit of short cut, I do recommend that you ask questions of long-term landlords and property managers in your area who already have an intuitive feel for their own local sweet spots.
The result of all of this testing, observation, and questioning will be to develop a set of property criteria that guide your hunt for new rental property purchases. These criteria tell you, and those helping you, the types of locations, price ranges, lots, buildings, layouts, and amenities that are a good fit in your target market.
When you find properties that meet your property criteria and also meet your minimal financial criteria, you move fast to buy it.  Plain and simple.
Your best properties may not be trophies that impress your friends and family. But that's ok. Just watch your bank account and net worth grow, and you'll sufficiently impress yourself. The financial independence you'll achieve as a result is what really matters.
Have your best real estate investments been boring or impressive? Simple or fancy? What criteria and price ranges have you found work for solid real estate investments in your area? I'd love to hear from you in the comments below.
Get My Free Real Estate Investing Toolkit!
Enter your email address and click "Get Toolkit"